Exciting News Coming Soon ...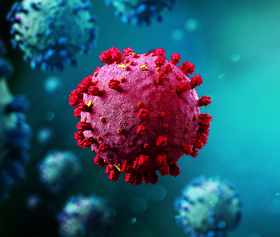 Due to the tightening of restrictions in Greater Sydney, The management commitee of Hawkesbury Radio has decided to introduce extra measures to keep our members and presenters safe.
Our office is currently closed until further notice. All urgent office matters can be dealt with over the phone on 02 4545 1222. Alternatively a direct message can be sent to our Facebook page and then it will be forwarded onto the correct member.
Our studios are still open to presenters however no visitors or interviews are allowed to be held within the studio. Over the phone/zoom interviews can still go ahead as per usual.
All presenters with the equipment to broadcast from home reliably will be doing so until further notice.
For anyone wondering, Hawkesbury Radio is certified COVID safe.
All presenters/members on site must scan into the premises using our COVIDSafe QR code or use the handwritten login sheets.
We have a limit of 2 people allowed in each studio.
Every presenter must wash their hands and sanitise before entering the studio.
Every presenter must wipe down and sanitise the studio before the next presenter enters the studio.
All shows and programs will still continue to go to air as usual! For all kinds of entertainment and great music, tune into Hawkesbury Radio 24/7 via the App, or on hawkesburyradio.com.au
Stay safe, stay home!
Carry your Hawkesbury Radio Presenter ID during the lockdown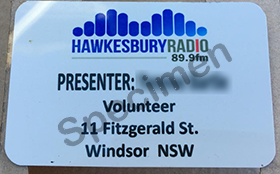 There are serious fines being issued for people breaching the lockdown regulations this time around, so be sure to carry your Hawkesbury Radio Presenter ID with you if you're moving to or from the station premises. They identify you aas a member of an essential service, and permitted to be travelling. It could save you a huge fine = up to $5000!!!
IF you dont know where your ID card is, or it's damaged or lost, contact Yvonne in the office and we'll get you another. But it is very important that you are able to identify yourself to Police if they ask why you are not at home.
Upgrades happening to our FM signal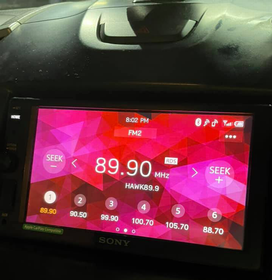 We are in the process of upgrading our FM audio processing system which means not only will we sound better, our signal will be louder in those areas with poor signal. Also, we now broadcast our Station name and some other messages which can be seen on modern FM radios and newer car radios (RDS).
If you see these messages on your radio, please send us a photo to our Facebook Page
Download our FREE app!!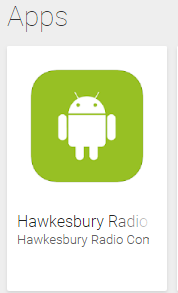 Now you can download our free app from the Google App store. (our IOS app for iPhone and iPad coming soon) WIth the free app, you can listen to YOUR Hawkesbury Radio all day, every day in clear rich stereo through your mobile device. Connect it by bluetooth to your car's stereo, headphones or your home stereo system. Even when we arent allowed to broadcast on the FM transmitter, you can still hear us through the app, loud and clear.
WIth a single tap, you can listen to our growing collection of podcasts, and communicate with us by twitter. Downoad it today from the Google App Store
UPDATE: iPhone version now in the App Store.
The IOS version for iPhones and iPads is now available in the Apple App Store. Just search for "Hawkesbury Radio" and there it is! It's free and with it you can tune into us 24 hours a day, every day.
Community Noticeboard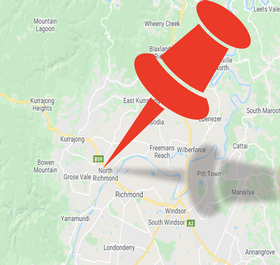 Community Noticeboard is a free public service from Hawkesbury Radio. Not-for-profit organisations holding events in our listening area or close to it, are welcome to let us know about forthcoming events, which will be included in our noticeboard announcements several times a day.
All you have to do is let us know at least two weeks in advance, and make sure you give us details of a contact person so we can follow up with one of the organisers.
Now you can contact our Community Noticeboard team on line through our Community Noticeboard page. >>>
Time now is:
3:38am, Thursday, 2/December/2021
On Air Now
12:00am
MIDNIGHT MADNESS
with Cathy & Jamie
What's on today
12:00am Midnight Madness

5:00am Breakfast Radio

9:00am The Dodgie Roggie Show

12:00pm Welcome Back

4:00pm Drive Time

7:00pm Best Rock & Pop

10:00pm Rockin' Blues Show
Station Membership
Join your local station and join us in serving and informing our local community! Download the Membership Application form, print it out and after completing it as fully as you can, send it to us at

Hawkesbury Radio,
11 Fitzgerald Street,
Windsor, NSW, 2756
Or alternatively drop it into the office at the above address.
Service information
We love meeting listeners - if you see our Outside Broadcast bus near you, come over and say g'day! Sadly because of the curreent social distancing, we can't get out and around as we'd like. We'll be back out and around the community again as soon as we can do so safely.
Why not call the studio and say g'day or make a request instead? Call (02) 45 899 899 or you can text a request on 0427 899 899
We don't currently have any Outside Broadcasts scheduled - why not have us broadcast from your function/promotion/event?
Find out more details at our community page >>>