Download our FREE app!!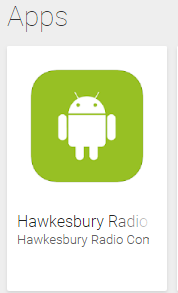 Now you can download our free app from the Google App store. (our IOS app for iPhone and iPad coming soon) WIth the free app, you can listen to YOUR Hawkesbury Radio all day, every day in clear rich stereo through your mobile device. Connect it by bluetooth to your car's stereo, headphones or your home stereo system. Even when we arent allowed to broadcast on the FM transmitter, you can still hear us through the app, loud and clear.
WIth a single tap, you can listen to our growing collection of podcasts, and communicate with us by twitter. Downoad it today from the Google App Store
UPDATE: iPhone version now in the App Store.
The IOS version for iPhones and iPads is now available in the Apple App Store. Just search for "Hawkesbury Radio" and there it is! It's free and with it you can tune into us 24 hours a day, every day.